By Dominic Messier, Founder, Editor and Card Carrying Trekkie since 1974
With the resurgence of popular Star Trek TV spin-offs hitting the airwaves in the last few years (Star Trek: Discovery, Star Trek: Picard, the upcoming Star Trek: Strange New Worlds), it comes as no surprise that the fan base's appetite for original content is growing faster than a Tribble population.
Given the often linear, season-long single story arcs from these shows, it's often difficult for the writers and producers to come up with any innovative way to explore the lesser known aspects of Trek lore, or at the very least offer a bit of back story to its familiar characters.
Enter Star Trek: Short Treks, a series of 10-minute long short mini-episodes that offer some additional information on existing episodes, lets us peek into some of the more interesting mysteries of Gene Roddenberry's universe, or to bring back some fan favorites in unique situations.
Amongst the nine mini-episodes included on this Blu-Ray release:
"Runaway": Star Trek Discovery's Ensign Sylvia Tilly (Mary Wiseman) encounters and befriends a stowaway named Po (Yadira Guevera-Prip), whose origins and pivotal role on her home planet could prove vital to the future of the Federation;
"Calypso": A human soldier drifting in space in a failing escape pod (Aldis Hodge), is rescued by a sentient U.S.S. Discovery far into the future, with the latter developing a relationship with possible romantic implications with her humanoid passenger;
"The Brightest Star": Witness some of the daily Kelpian life and routine on Caminar, shortly before Saru (Doug Jones) makes first contact with the Federation and joins Starfleet;
"The Escape Artist": Harcourt Fenton "Harry" Mudd (Rainn Wilson, who also directed this episode) is in hot water yet again, trying to talk his way out of being delivered to Starfleet for a profitable bounty;
"Q&A": Ensign Spock (Ethan Peck) joins the crew of the U.S.S. Enterprise under the command of Captain Christopher Pike (Anson Mount), only to be stranded inside a turbolift with his superior officer only known as Number One (Rebecca Romjin)….a barrage of questions quickly ensues;
"The Trouble with Edward": Newly promoted Captain Lynne Lucero (Rosa Salazar) is assigned command of the science ship U.S.S. Cabot, only to realize that one of her officers is a less-than-ideal scientist with questionable work ethics and morals (H. Jon Benjamin), who decides to show her who's boss by genetically modifying tribbles to increase their reproductive cycle;
 "Ask Not"; A Starfleet cadet having just boarded the Enterprise is assigned prisoner guard duty during a mutiny on board, until she discovers that the mutineer in question is non other than Captain Pike (Anson Mount);
"Ephraim and Dot": An animated short in which a tardigrade (similar to the one released in a previous episode of Discovery) is looking for a safe place to lay her eggs, until a maintenance robot from the Enterprise intervenes. What follows is a cat and mouse chase in and around the ship, with famous moments from Trek history unfurling in the background;
"The Girl Who Made The Stars": Mike Burnham (voice of Kenric Green, Sonequa Martin-Green's real life husband) tells his young daughter Michael (voice of Kyrie McAlpin) an ancient African folk tale about the origin of the stars in the sky, to appease her fear of the dark.
(A tenth Short Trek episode, "Children of Mars", isn't featured on this release and will likely be added to the Blu-ray release of Star Trek: Picard)
The greatness of this collection of stories lies in its diverse mixture of genres, media and its fluid ability to jump from funny to tense to touching and back again. Sure, it doesn't hurt that viewers get to have another early dose of the next Trek trinity, that of Anson Mount, Rebecca Romjin and Ethan Peck, whose appearances in the second season of Discovery has led to them getting their own spin-off, set a decade before the Kirk/Spock/Bones years. Their roles here will only stoke the fires of anticipation while we wait for their Strange New Worlds series to air, hopefully some time next year.
A true highlight of this set comes with the hilarious "The Trouble with Edward", which finally answers a major question as to the origin of the hairy furballs and their tendency to multiply and run rampant on starbases. Animated TV fans will recognize H. Jon Benjamin, who plays the titular Edward, as the voice of Bob Belcher on Bob's Burgers or as the womanizing bumbling spy Sterling Archer on the show of the same name. His comic timing and deadpan delivery makes for a very welcome bit of levity in the usually poignant sci-fi franchise.
In a great bit of animation as a Trek first since the original crew's animated series in the 1970s, both "Ephraim and Dot" and "The Girl Who Made the Stars" allow us to return to that medium to great effect. The former is a literal trip down memory lane, featuring a good half dozen or more memorable moments from the original series.
Several of the episodes were written by Pulitzer-Prize winner Michael Chabon, an avowed Trekkie whose work on Picard has also won him praise, and who brings prestige to this mini-series of shorts. Mind you, the writing on each episode is commendable in its own right.
This one-disc Blu-ray release also offers a brief behind-the-scenes look at each short, including two audio commentaries (on "Runaway" and "Ask Not"), as well as an interview with executive producer Alex Kurtzman, about the challenge and delight of putting together such short tales into production during and after regular season filming of Discovery at Toronto's Pinewood Studios.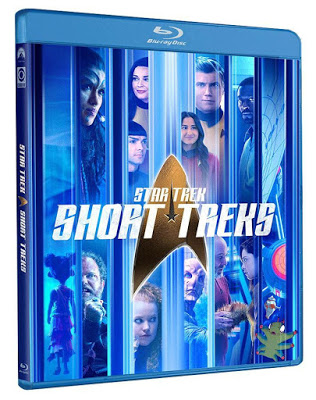 With no set airdate for the third season of Discovery and production not yet underway for Strange New Worlds due to the Covid-19 quarantine protocols, this set is a welcome pit stop on the way to further Trek adventures. We can only hope more of such vignettes pop up as the seasons of both shows progress, as they continue to offer some insight into characters' psyches, quirks and, yes, Number One, their "freaky."
Verdict: